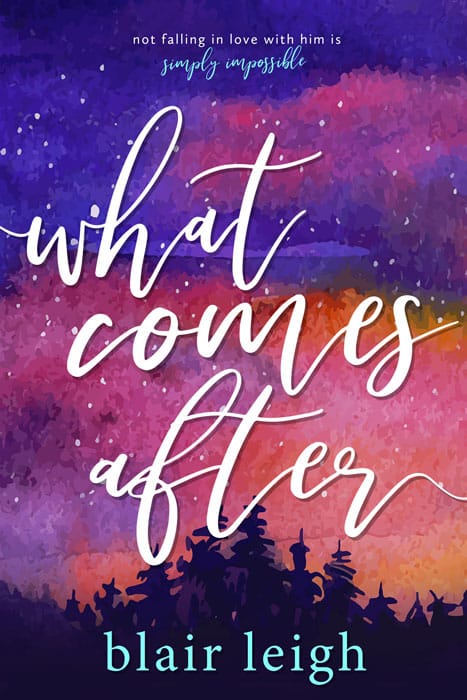 A romance novel that squeezes you tight and leaves you pretty damn satisfied.

Rebel Carter
Book Description
"How the hell did I get here?"
Here being red-faced, uncomfortable, and sandwiched between a bride and groom as their impending marriage explodes before it ever starts. This wasn't what Eliza Davis had in mind when she was hired.
Then again, the last year and a half wasn't what she had in mind.
Eliza never thought she would have to start over. The life she had planned didn't involve losing her husband and becoming a single mother in her early thirties. It didn't involve leaving the comfort of their home for a small town across the country. And, as much as she adored her best friend, Simone, it didn't involve moving in with her, either. Now, all Eliza wants is stability and belonging.
While Eliza's life was falling apart, Jack Peters' life was going according to plan—a successful veterinarian practice, a beautiful fiancée, and a supportive town where he could build his future. Then, on the day of his wedding, in the presence of a complete stranger, he was left humiliated just moments before the ceremony. His plan vanished, replaced with a bitterness and a wall that immediately went up, protecting him from putting himself out there again.
Their first encounter is far from pleasant, and yet, it's almost as if they can't escape each other. Despite their initial mutual hesitance, just being around Eliza breaks Jack's wall down piece by piece. But, she's a harder shell to crack; the thought of growing close to someone only to lose them caused a bubble of panic to rise. They could be acquaintances, even friends, but nothing more. Even if he makes her daughter laugh again. Even if he comes over to chase ghosts out of the attic without a second thought. Even if his earth-shattering smile makes her heart squeeze in ways she forgot. Even if not falling in love with him is simply impossible.
Praise for What Comes After
What Comes After by Blair Leigh is a delightfully warm and thoroughly romantic read. This book brought me low, and boy, did it take me high. Eliza, Nova, Simone and Jack all form the heart of Eliza and Jack's love story that isn't linear or clear cut. It's a messy, one step forward, two steps backward sort of dance that is achingly sweet, tender, and above all sincerely told by a debut author with a voice worth reading and loving.

The chemistry between Eliza and Jack is instant, even if they meet under less than desirable circumstances. Living in a small town means seeing the same faces day in and day out, and so over and over again, fate throws the couple together until they finally latch on to one another out of choice rather than circumstance. From then on, their love is homegrown and slow to start but the roots run deep. Shake it up with small town appeal, complicated family dynamics, found family and the beauty of healing and reconciliation and you have a new favorite book you'll reread again and again.

What Comes After is a romance novel that squeezes you tight and leaves you pretty damn satisfied. This may be Blair Leigh's debut novel but it won't be her last. Get in on this shit.

Rebel Carter, Author of the Gold sky series