I want to have a page dedicated solely to books I read and enjoyed. I'm going to start off with two favorite reads of mine and try to add onto it as frequently as possible.
To begin:
1. The Hating Game by Sally Thorne
It should come as no surprise that this novel is my favorite romance. Bubbly, beautiful, eccentric, lovely Sally delivers the two most perfect characters for my enemies-to-lovers loving heart. I read it while I was in law school and it reawakened my love for writing. I am forever thankful for her for that. The Hating Game has everything you want. There is witty banter, steamy tension, a closed-off hero with a heart made for only one person, and a heroine with guts and ambition. Two assistants (Josh and Lucy). One room. Silly games that border on flirtation though are mistaken for disdain. Told in the perspective of Lucy, you watch as her sworn enemy becomes more than what she ever expected.
Whenever there is, what we in the romance community call, a "sick scene," I am sold. The Hating Game has one of the best I've ever read. It's a turning point for Josh and Lucy and the entire scene(s) is *chef's kiss* magic. When I first read the novel, I read it in six hours. Since, I've re-read it close to ten times.
2. Take a Hint, Dani Brown by Talia Hibbert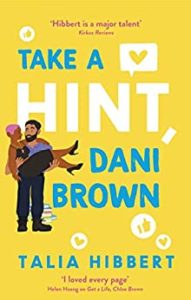 I am not being dramatic in the least when I say Dani Brown is my perfect heroine. PERFECT. She is witchy, witty, sarcastic, and sexy. I swooned over Dani and Zaf from the first moment they interacted on page. Every single time I turned the page, I could not wipe the enormous grin from my face. I cannot explain what made Zafir, the romantic security guard, the perfect hero of our time. Maybe it's the tiny gestures of love he shows Dani? Maybe it's the undeniable chemistry that oozes off the pages like it was made to be on the screen? I don't know. Whatever it was, Talia Hibbert is a master of it.
Fake dating. Friends with benefits. Snarky heroines. Cinnamon roll heroes. Literal laugh out loud moments. Internal dialogue that is quick and brilliant. Is there anything else you want? Talia Hibbert is a one-click-buy every damn time.