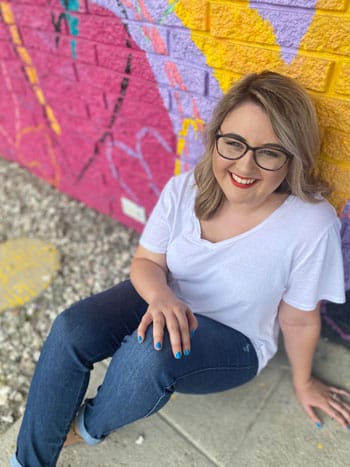 Blair lives in the South (U.S.) with her husband, who is her own romance hero, and their two dogs, Doug and Birdie. She comes from a huge family and her favorite title she's ever been given is "Aunt B" by her nieces and nephews. Blair describes herself as an attorney by day and a writer by heart. Having always been a sucker for happily ever afters and sweeping love stories, it was only natural that her own work mirrored that.
On any given day, you can find her bundled on the couch with either a book in her hands or Gilmore Girls on her screen for the umpteenth time. She tries to surround herself with love, friendship, and tear-inducing laughter to combat the things in the world she can't control.
Wall mural in image by @hairartandcompany
Blair's debut novel is out now
7 Quick Facts About Blair
Blair's favorite movie is Steel Magnolias, but she can quote the entirety of A Cinderella Story (2003) and Love & Basketball (2000).
Her favorite trope is Enemies to Lovers, and her favorite book boyfriend is Joshua Templeman from The Hating Game.
Blair's favorite read of 2020 was Take a Hint, Dani Brown by Talia Hibbert.
She can sing every lyric to every song on every Taylor Swift album.
Rory and Jess from Gilmore Girls were solely responsible for her falling in love with love.
She makes a Spotify playlist for every book she writes.
Chimamanda Ngozi Adichie is her personal hero and Queen.